A New Lens and Other Updates
Here is my latest update for photos I have taken and what I've been up to for the past few weeks.
Recently I been working on a whole bunch of posts for TPE which has required me to go out and take more photos.
One of those posts I'm working on is a review of the Sony FE 35mm f/1.8 lens.  I posted a few weeks ago  I was thinking of selling the Sony 16-35mm GM and going all primes. I wanted to challenge myself by using the 35mm for shots that I'd usually take the 16mm with. Below is the result of challenging myself to use that 35mm prime.
I had originally composed it differently but it was just the same image as what everyone else there was taking. I stood there for a few moments to think and just to the left of me was a whole bunch of shrubbery. This made some really great framing and helped to fill the foreground.
The long exposure helped to blur the water as well as the shrubbery. The thought I had after reviewing this image is, if I had used a 16mm lens it would have been way too wide. the 35mm was the perfect focal length for me in the scene.
Above is a candid shot I took of someone there enjoying the sunset with their GoPro on the same evening.
Love or Let Go
Admittedly I been considering selling off my Sony FE 85mm f/1.8. This is one of those lenses that is so amazing for price but I just feel it's missing something.
To give a bit of context, I previously owned the Sigma 85mm f/1.4 EX DG lens. This was such an amazing lens and had really nice bokeh and rendering. I never used both side by side to be able to test if one is sharper, although I'm quite sure the Sony would win in this aspect.
I like the 85mm for full body portraits and street photography so having a fast aperture like f/1.4 can really help for background separation. Below is a self portrait I took of myself to see how well the Sony FE 85mm f/1.8 renders in this respect.
Although I do believe an f/1.4 would produce a nicer image with a softer transition from in focus to out of focus, I do like what the Sony does produce.
The main lens I'm interested in is the Samyang AF 85mm f/1.4. This lens has beautiful rendering but I have been told it also has a lot of quality control issues. The unfortunate part is that local stores keep this lens as special order only. This means if I get a bad copy, it will be a nightmare to return.
For now I think I'll keep the Sony but I think if I can find a store that carries stock I can try before buying, the Samyang will be too good to resist.
More of the Same
The next lot of images don't have anything that I really need to go into detail to explain.
Some may remember I posted about attending a wedding in New Zealand a few weeks ago. One of the gifts we received was a Coke bottle with our name on it. Like any new item I receive, I decided to do a product shot of it which you can see below.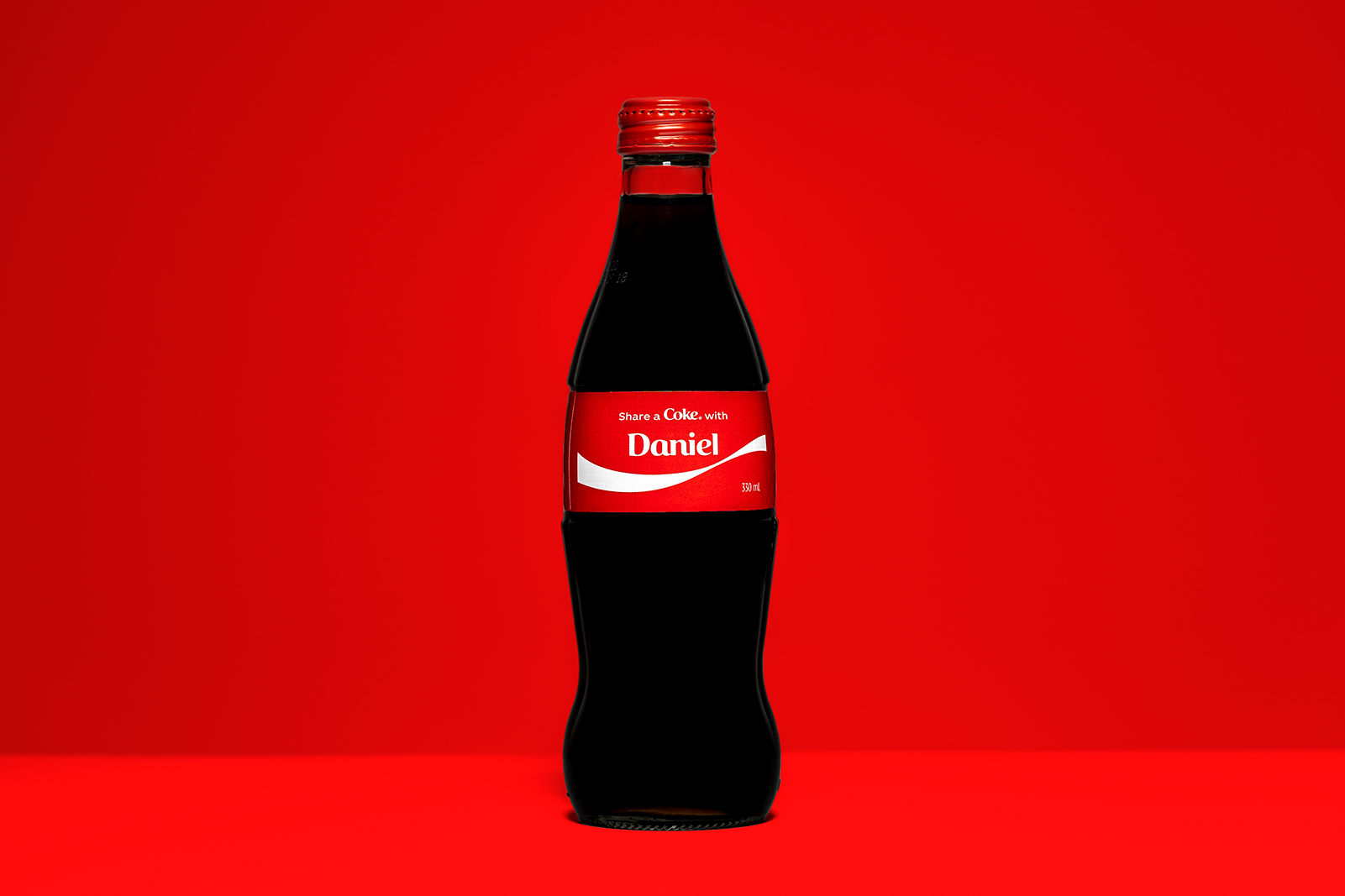 I used my Yongnuo light stick for this image and I actually plan to buy another one once I can sell off all my old flash gear.
The next 3 images are also the result of taking out a 35mm prime instead of a zoom.
The above shot was a 195 second long exposure taken using my Nisi CPL and Haida 10 stop ND filter. When I first got to the location the skies were clear but by the time I was done setting up, there was heavy clouds.
The Image still turned out okay but it wasn't what I originally planned for the shoot. Due to it being such hot weather, I decided to pack up after this. While i was doing this, a tour bus full of people started to show up which can be seen below.
I started to walk back to the station when I noticed a bit more dramatic skies in the opposite direction. I decided to quickly take the shot below which is 3 images bracketed and merged in Lightroom.
I somewhat wish I had set my tripod up and tried to do another long exposure. The clouds were moving in the right direction to create nice movement in the sky but I just wanted to get home as quick as I could.
Trying Something New
One think you may notice about the image above of Crown Sydney is that I used a 4×5 crop for it. I shoot a lot of portrait orientated images and recently I decided to experiment with using this format.
One of my favorite places to eat at is a place called 678 Korean BBQ.  I try to go here as often as I can, but sadly not as much as I would like. I decide to bring the M5 along with me so I could capture a few casual images of the food.
As you can tell I used the crop for both of these two images of the food and I feel it works well. I wouldn't say it would work for all images but I been enjoying experimenting with it.
Last but not least is a self portrait of my girlfriend and I on Valentines day. We just got back from dinner and the lighting was nice so we decided to take photos on our balcony.
For the pixel peepers out there, you may see what looks like dust spot towards the top left of the photo. Thankfully this is just a dirty wall. Considering this image was taken at f/1.4, they would have to be huggggeee dust spots!
So that is all for me and I hope you enjoy the less frequent, but more detailed blog posts. If you would like to be notified whenever I make a new post, you can subscribe at the bottom of the page.