Welcome to the second post for my vacation to Japan!
This post is all about Lake Kawaguchiko which we went to during our stay in Tokyo since it isn't too far from there.
There is a few ways to get to Lake Kawaguchiko although we chose to take the train. The bus can be cheaper but you are subject to traffic and I get motion sickness so a bus constantly stopping and starting wouldn't be fun for me.
The train ride was quite long but pretty comfortable. I wasn't travel sick at all and managed to sleep through the majority of the time we went through the countryside.
Once we got to Lake Kawaguchiko we dropped our bags at the hotel then went out to look at shops and buy food with a few images I took at these shops you can see below.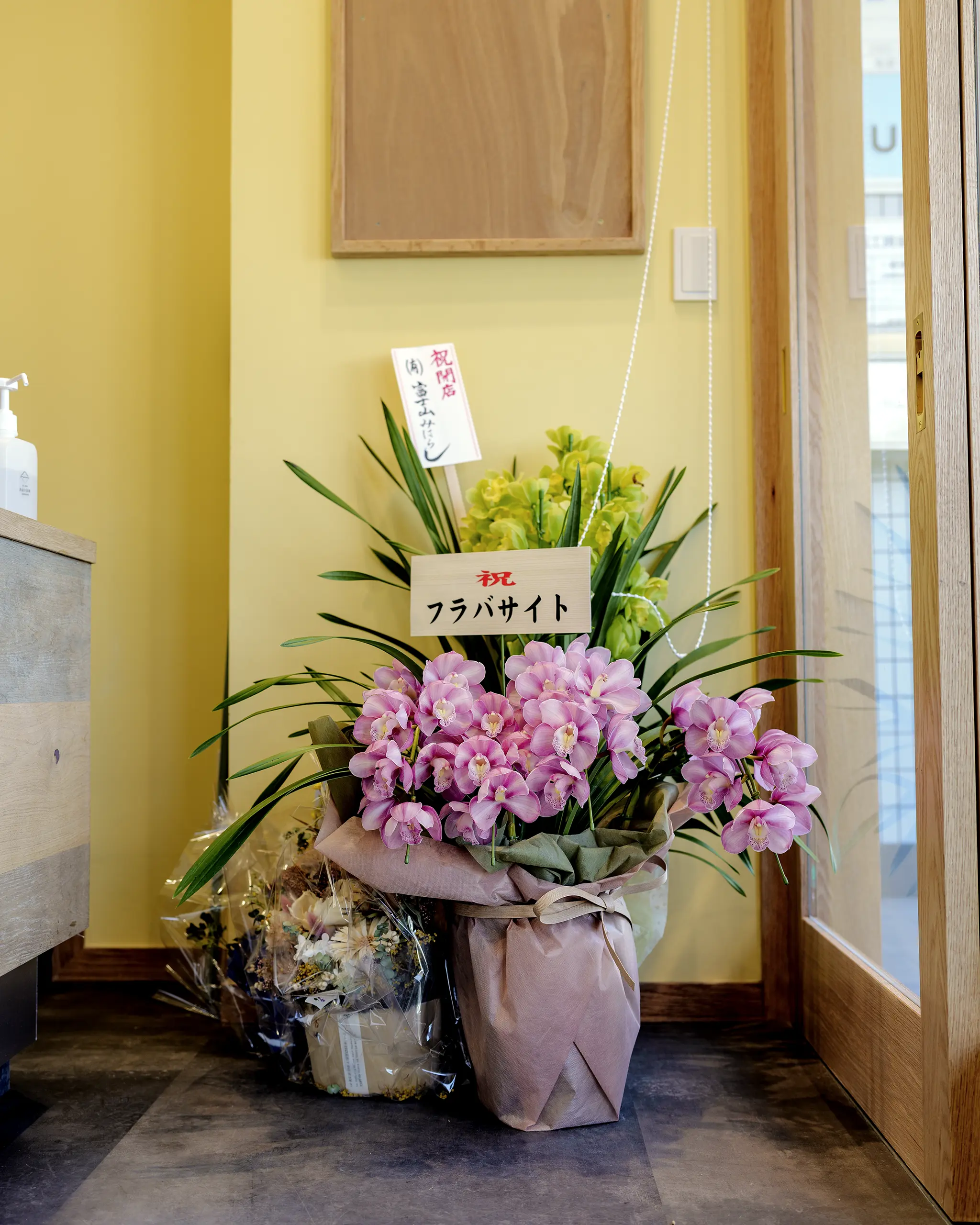 I wanted to get sunset images from Chureito Pagoda so we waited for the evening before catching the train and making our way there.
As always we got there a bit late so had to make our way up quickly but we did stop to take quite a few photos on the way up. The climb wasn't too bad but it was also quite a bit for someone who isn't as fit (my wife) and can take quite a bit of time.
Below are images from the climb up to Chureito Pagoda.
The view up there was really nice. Because we were visiting at the beginning of March, all the trees were bare so it's wasn't quite as nice as what you may be used to seeing in photos.
There was a lot of people here wanting to take images so I didn't quite get the composition I wanted as that platform to the left was visible in the image and roped off so you couldn't shoot from there either.
If I had taken a few steps to my right I could have got a portrait orientated image without the annoying area in the bottom left but I would be blocking peoples view which I felt bad about. Now I really wish I had just quickly get my shot so I guess I have reason to go back next time I visit Japan.
After this we head back to the main area near the station for dinner but sadly the place we wanted to go was full. Because of this we just went to the Lawson's to buy some food and ate back at our hotel.
While at the hotel, I took the night image you see above. Funny enough you couldn't actually see Mount Fuji when taking the image and I needed to take the shot then check my composition in camera as it was that dark.
That was enough for one night then I decided to try again in the morning.
The Next Day
I made the plan to wake up early the next day in order to try get photos of Mount Fuji.
From what I had read/watched, Fuji-San was more clear during the mornings so I figured this was my best bet. As our hotel had a great view of Fuji-San I wanted to make the most of the view from our balcony.
The first image is the view we had from our hotel room. If we didn't have the balcony it would be a nice clean view but as we could open the door, we did get that split in the image. Regardless, below are the images I took that morning.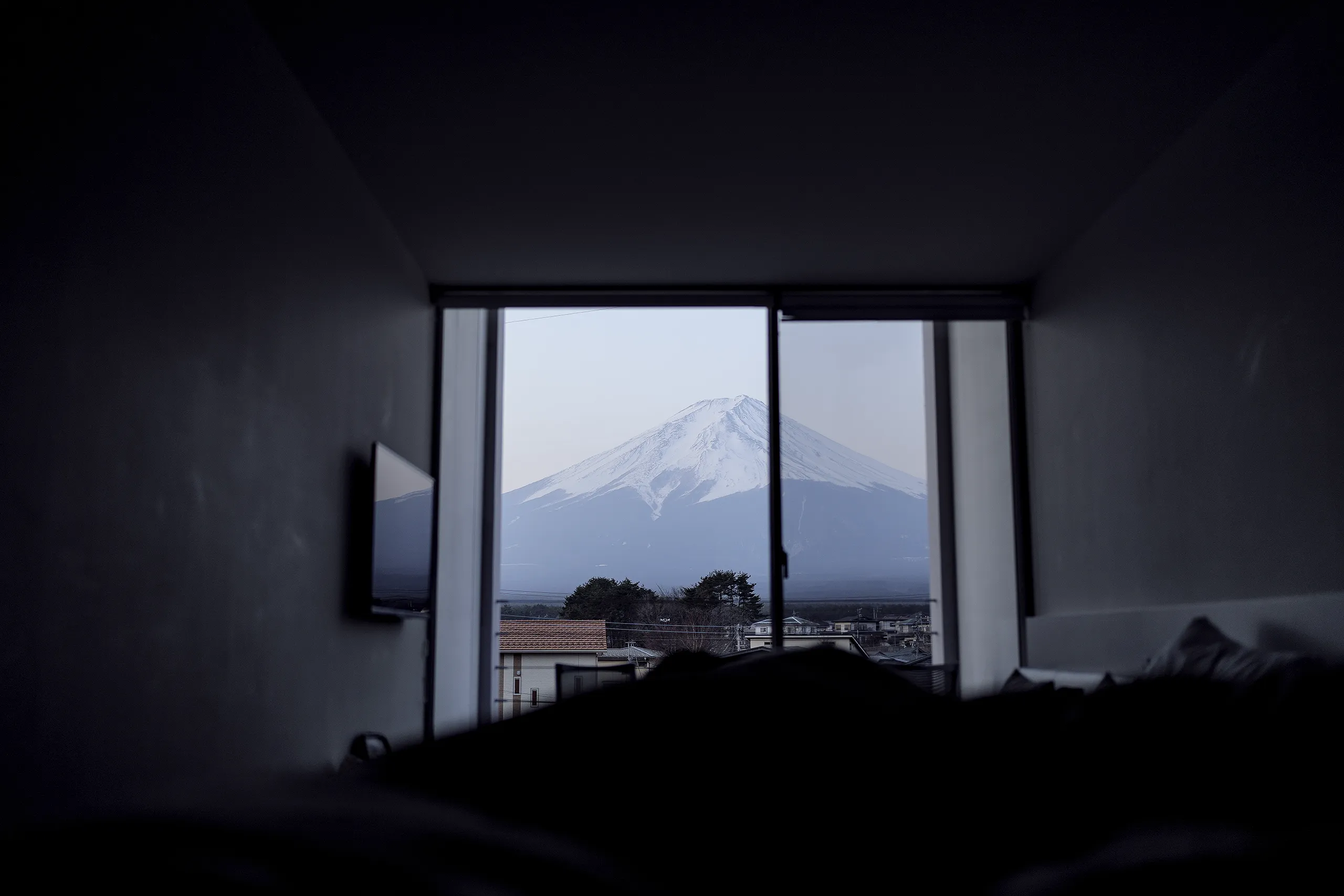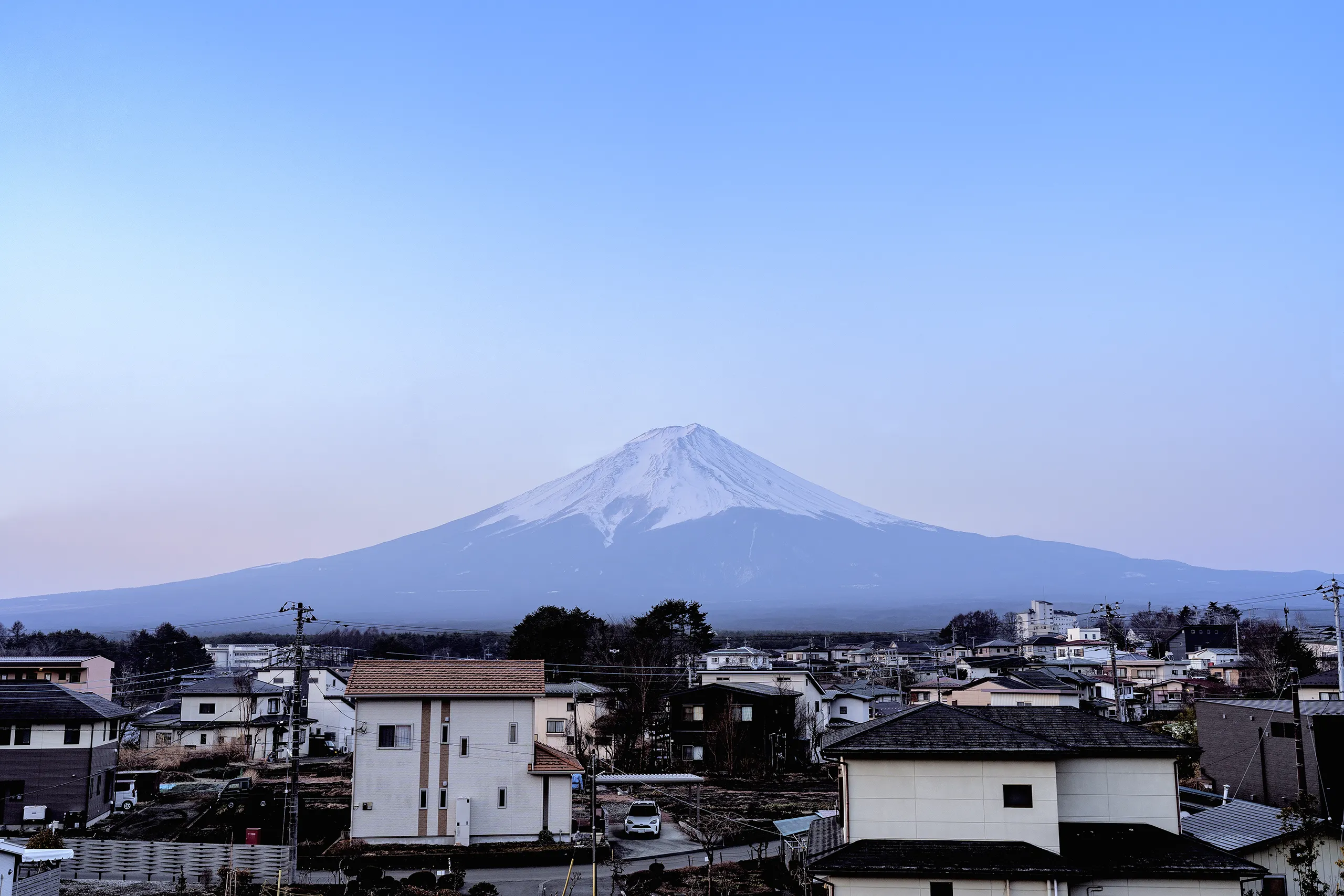 The morning view was undeniably beautiful.
I'm not a huge nature person but I really enjoyed this place. I've seen a lot of images of Lake Kawaguchiko, especially around the rivers which looked amazing although would have been more difficult to take.
I wanted to attempt one of these but the location looked quite hard to get to at night which was the main issue for us and why we didn't give it a try. I'm happy with the images I took though and next time I visit Lake Kawaguchiko I'll definitely try a few different spots.
The Ride Back
Our time was up in Lake Kawaguchiko so we made our journey back to Tokyo.
When it came to getting our tickets it was pretty confusing as you need multiple tickets for the one trip so I spent quite a bit of time at the ticket office but lucky it was all sorted out in the end. Below you can see the train we hopped on for our trip back which has a funny story.
We got on this carriage and sat on the right side in our seats, got comfortable then relaxed and I slept. We paid for first class and were very happy with these seats and how fancy they were. Eventually the guard was checking tickets and when he checked ours, he seemed confused but then said it was fine and walked away.
About 5 minutes later he returned and was telling us we were in the wrong seats. Of course we weren't too happy as we really enjoyed these seats and couldn't imagine what area we were meant to be sitting in as we did pay for 1st class.
He told us to follow him and to our surprise, 1st class was even nicer. Below are images from the 1st class cabin on the Fujisan View Express.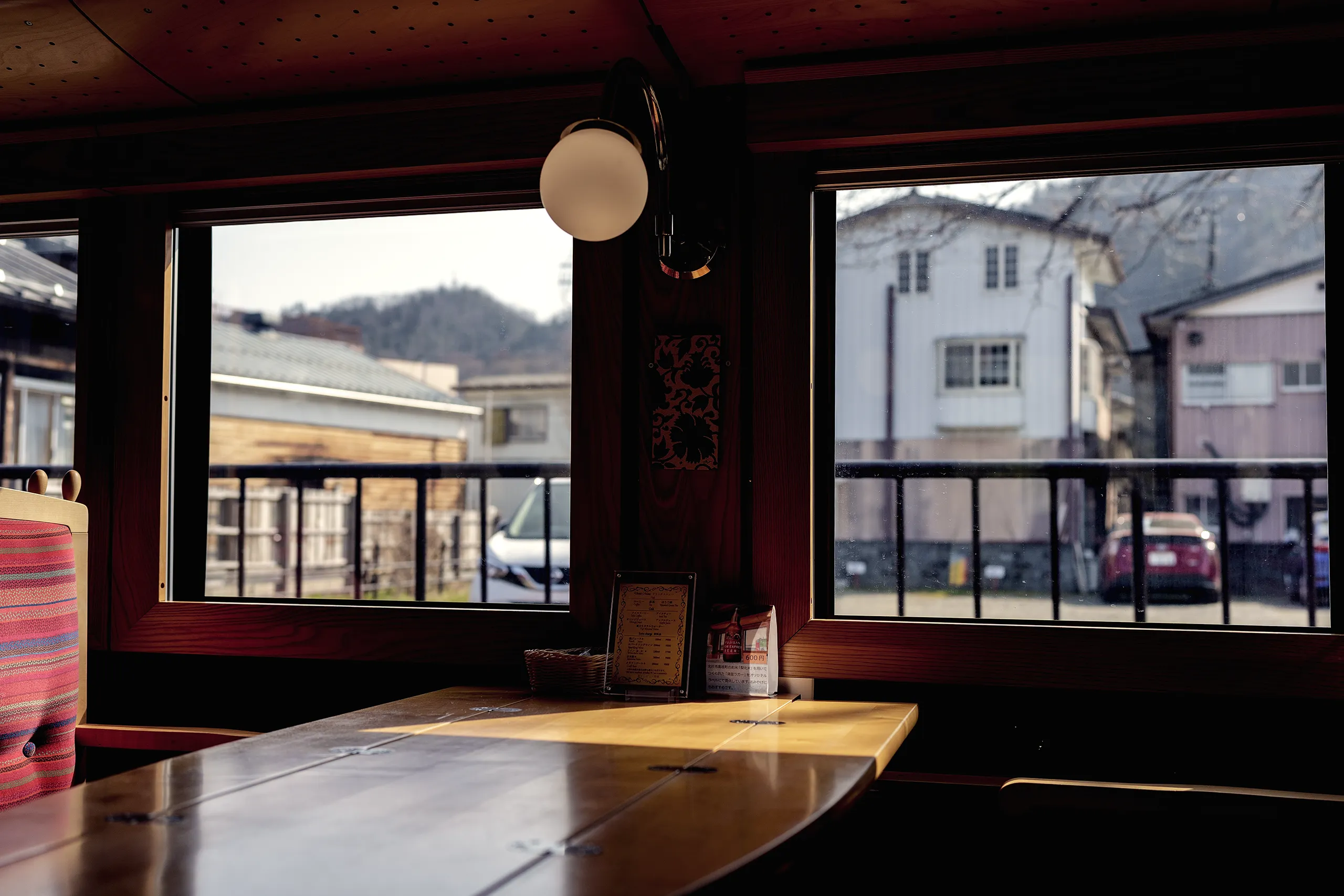 This was quite a nice experience and very different from the first class onboard something like the Shinkansen (bullet train). Sadly we were only on here for maybe 10-15 minutes as the majority was spent in what we thought was first class although it was very comfortable and I got a lot of good sleep in there.
I used this first class cabin as a chance to try out the Tamron 70-180mm f/2.8 which I was really impressed with it in my limited use. Once we got to our connecting station, I took the image below with the same Tamron lens and was addicted to the look it provided.
After this image we caught our connecting train and it was back to Tokyo we went. As you can probably tell, the next post will be focusing on that second part in Tokyo.
This brings this post to an end which I hope you enjoyed. If you did, please subscribe using the form below if you'd like to be notified of future posts.
Subscribe to Blog via Email